What's new
As of 2011.02.08
15 STAL chicks transferred from Torishima to Mukojima Island successfully.
On 8 February 2011, 15 Short-tailed Albatross chicks were transferred on helicopter from Torishima in Izu Islands to Mukojima in Ogasawara Islands.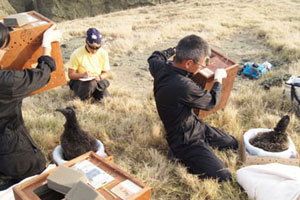 The transportation is conducted with the aim of reintroducing this endangered species to Ogasawara Islands for a more secure recovery. The chicks will be hand reared by the research team of Yamashina Institute camping in this uninhabited island until they fledge in late May. This is the fourth year of transportation which started in 2008 and is planned to last for 5 years.
This reintroduction project is conducted by YIO in collaboration with Ministry of the Environment, Japan and United States Fish and Wildlife Service.
>> Other news