About Us
The Founder
Founder, Dr. Yamashina Yoshimaro
Dr. Yamashina Yoshimaro was born on July 5th, 1900 as the second son to His Imperial Highness Prince Yamashina Kikumaro. He developed his interests in birds at an early age. He became an artillery lieutenant after finishing the army cadet school and the Imperial Japanese Army Academy, but was not able to give up his wish to study zoology and took a non-regular course of two years at the zoology department in the Faculty of Science of the Tokyo Imperial University (currently the University of Tokyo).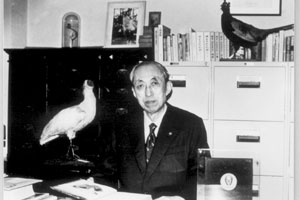 He finished his zoology studies in the university in 1931 and built his laboratory museum, the predecessor of the Yamashina Institute for Ornithology in 1932. He devoted himself in ornithology research and vigorously pursued collecting bird specimens from the Asia and Pacific region. In 1939 he studied hybrid sterility in birds under the supervision of Prof. Oguma Mamoru of Hokkaido Imperial University (currently Hokkaido University) and obtained his doctorate in this field in 1942.
Subsequently, he devoted considerable effort into genetic research on the chromosomes of birds, and introduced a classification method using chromosomes in bird taxonomy which drew worldwide acclaim. He published "Animal Taxonomy based on Cytology" in 1949 and received the Genetics Society of Japan Medal in 1950.
Furthermore, Dr. Yamashina received a research contract on "poultry breeding" from the Ministry of Education. He worked to breed prolific and well-fleshed domestic fowls as the country was protein-deprived after the war. He also studied breeding of "doban", a hybrid of the domestic Muscovy Duck and the domestic duck. After that, he put much of his effort in bird conservation and served as the President of the Ornithological Society of Japan, the President of the Japanese Society of Preservation of Birds, the Vice-President of the International Council for Bird Preservation (currently BirdLife International), and the President of the Asian Section of the International Council for Bird Preservation.
His best known publications include "Japanese Birds and their Ecology" (Vol.1: 1933, Vol.2: 1941) and "A World List of Birds with Japanese Names" (1986).
In 1977, Dr. Yamashina was awarded the Jean Delacour Medal, a highly esteemed award in ornithology. In 1978, in recognition of his achievements in animal conservation in the world, he received the Golden Ark Award from the Dutch Royal House.
Dr. Yamashina died on January 28, 1989 at the age of 88.