About Us
President
His Imperial Highness Crown Prince Akishino
(Akishinonomiya Fumihito), Ph.D
President, Yamashina Institute for Ornithology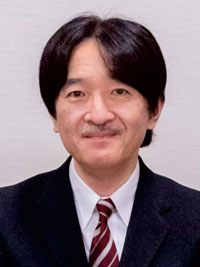 Education
1988 Graduated from the Department of Politics, the Faculty of Law, Gakushuin University, Japan.
1988-1990 Visiting Student, Graduate Studies, the Department of Zoology, University of Oxford, UK.
1988-1990 Research Student, Oxford University Museum of Natural History, UK.
1988-1990 Research Student, the Natural History Museum (British Museum), London, UK.
1996 Granted Ph.D. from the Graduate University for Advanced Studies, Japan.
Positions and Functions
1986- President of the Yamashina Institute for Ornithology
1988- President of Japanese Association of Zoos and Aquariums
1997- Honorary President of World Wide Fund for Nature Japan
2000- Honorary Patron of the Japan-Netherlands Society
2004- Honorary Patron of Association for All Nippon Gourd Fanciers
2005- Honorary Vice President of the Siam Society
2005-2010 Specially Appointed Researcher, Hayama Center for Advanced Studies, The Graduate University for Advanced Studies, SOKENDAI
2011-2014 Visiting Researcher, The Center for the Promotion of Integrated Sciences, The Graduate University for Advanced Studies, SOKENDAI
2007- Researcher Extraordinary of The University Museum, The University of Tokyo
2008- Visiting Professor of Tokyo University of Agriculture
2012- Honorary President of the Waksman Foundation of Japan INC
2013- Patron of the Social Welfare Organization "Saiseikai" Imperial Gift Foundation Inc.
2014ー Patron of the Agricultural Society of Japan
2014ー Patron of the Japan Forestry Association
2016ー Patron of the Japan Association of Botanical Gardens
2019- Patron of the Foundation for Academic Specimens of Domesticated Animals
Research interests
Biosophia Studies, Folkbiology.
His Imperial Highness is interested in the multi-faceted relationship or interactions between human being and other living organisms such as livestock, freshwater fishes, domesticated plants, etc. Recently, he is particularly intrigued by the domestication process of chickens from their ancestor, jungle fowl, from the aspect of interdisciplinary methods including folkbiology, morphology, molecular genetics, geography etc.
Honorary Degree
1995 Honorary Doctorate (Fishery Biology) from Kasetsart University, Thailand
1995 Honorary Doctorate (Science) from Burapha University, Thailand
1999 Honorary Doctorate (Fisheries) from Khon Kaen University, Thailand
2001 Honorary Doctorate (Science) from Srinakharinwirot University, Thailand
2001 Honorary Doctorate (Science) from Chulalongkorn University, Thailand
2003 Honorary Doctorate (Agriculture) from Ubol Ratchathani University, Thailand
2007 Honorary Doctorate (Fisheries Science) from King Mongkut's Institute of Technology Ladkrabang, Thailand
2011 Honorary Doctorate (Animal Science) from Kasetsart University, Thailand
2011 Honorary Doctorate (Human and Environment Management) from Chiang Mai University, Thailand
2012 Honorary Doctorate (Science(Agricultural Technology)) from Thammasat University, Thailand
2018 Honorary Doctorate (Biology) from Mahasarakham University, Thailand
Selected Papers and Reports
Fumihito, A., T. Miyake, S. Sumi, M. Takada, S. Ohno and N. Kondo (1994)
One subspecies of the red junglefowl (

Gallus gallus gallus

) suffices as the matriarchic ancestor of all domestic breeds. Proceedings of the National Academy of Sciences of the United States of America. 91:12505-12509.
Fumihito, A., T. Miyake, M. Takada, S. Ohno and N. Kondo (1995)
The genetic link between the Chinese bamboo partridge (

Bambusicola thoracica

) and the chicken and junglefowls of the genus Gallus. Proceedings of the National Academy of Sciences of the United States of America. 92:11053-11056.
Fumihito, A., T. Miyake, M. Takada, R. Shingu, T. Endo, T. Gojobori, N. Kondo and S. Ohno (1996)
Monophyletic origin and unique dispersal patterns of domestic fowls. Proceedings of the National Academy of Sciences of the United States of America. 93:6702-6705.
Fumihito, A. (1996)
Molecular Phylogeny of Junglefowls, genus

Gallus

and Monophyletic origin of Domestic Fowls. Doctoral Thesis, The Graduate University for Advanced Studies, Kanagawa, Japan.
Fumihito, A.(compiled by) (2000)
Chickens and Human Beings--Viewing the Aspects from Ethnobiology--. Shogakukan, Tokyo,Japan.
Akimichi, T., A. Fumihito and T. Komiyama (2000)
Domestication & Environmental Conservation Politics: Implications from Human & Red Junglefowl Interactions among Ethnic Groups in Xishuanbanna, Yunnan Province, China. Proceedings of the Cultures and Biodiversity Congress 2000 20-30 July, Yunnan, P.R. China 291-299, Yunnan Science and Technology Press.
Yoshida, A., A. Fumihito, S. Yamagishi and E. Asada (2003)
Estimation of Egg Content of Malagasy Extinct Elephant Bird

Aepyornis

by Computed Tomography. Journal of the Yamashina Institute for Ornithology 34(2): 331-334.
Oka, T., T. Amano, Y. Hayashi and A. Fumihito (2004)
Philological Studies on Subspecific Recognition and Distriburion of Red Junglefowl. Journal of the Yamashina Institute for Ornithology 35(2): 77-87.
Ando, T., H. Mukoyama, Y. Yoshida, A. Fumihito and S. Yamagishi (2004)
Chemical Identification of Brownish Stain Adhered to the Eggshell Surface of Extinct Elephantbird,

Aepyornis

, from Madagascar. Journal of the Yamashina Institute for Ornithology 35(2): 203-206.
Takamatsu, J., Uehara, Y., Masuda, T., Nakazawa, A., Ikeuchi, K., Okabe, A., Hayashi, Y., Ino, Y., Oka, T., Nomura, K., Amano, T. and Akishinonomiya F. (2005)
A Novel Osteometrical Method Using Computer Vision Techniques for Comparison of Morphological Differences. Journal of the Yamashina Institute for Ornithology 36(2): 120-128.
Yoshida, A., Akishinonomiya F., Yamagishi, S., and Tanida, K. (2005)
Underground Temperature Change throughout a Year Measured at a Coastal Dune Bearing Sub-Fossil Egg Shell Fragments of the Elephant Bird (

Aepyornis

) in Faux-Cap, Southern Madagascar. Journal of the Yamashina Institute for Ornithology 36(2): 136-140.
Nakano, T., Horai, S., Yoshida, A., Akishinonomiya F., and Yamagishi, S. (2005)
Report on the Eggshell Cutting Process of the Extinct Malagasy Elephant Bird

Aepyornis

.
Journal of the Yamashina Institute for Ornithology 36(2): 154-161.
Okabe, A., Satoh, T., Okabe K., Nakagawa, T., Imamura, E., Matsushita, K., Nagano, K., Ishiwatari, Y., Amemoto, K., Hayashi, Y., and Akishinonimiya F. (2006)
Applicability of a Wireless Fidelity Positioning System to Tracking Free-range Domestic Fowl (

Gallus gallus domesticus

) and Helmeted Guineafowl (

Numida meleagris galeata

).
Journal of the Yamashina Institute for Ornithology 38(1): 30-39.
Okabe, A., Satoh, T., Okabe, K., Imamura, E., Morathop, S., Jailanka, C., Ratanasermpong, S., Hayashi, Y., and Akishinonomiya, F. (2006)
Acquisition of spatio-temporal data of free-range chicken using a Wireless Fidelity (WiFi) positioning system and spatial analysis of the obtained data. The papers and proceedings of the geographic information systems association. 15: 395-400.
Oka, T., Ino, Y., Nomura, K., Kawashima, S., Kuwayama, T., Hanada, H., Amano, T., Takada, M., Takahata, N., Hayashi, Y., and Akishinonomiya, F. (2007)
Analysis of mtDNA sequences shows Japanese native chickens have multiple origins.
Animal Genetics, 38, 287-293.
Akishinonomiya Fumihito and Nishino Yoshiaki (2008) "Summa Ornithologica". University of Tokyo Press.
Ino, Y, Oka, T., Nomura, K., Watanabe, T., Kawashima, S., Amano, T., Hayashi, Y., Okabe, A., Uehara, Y., Masuda, T., Takamatsu, J., Nakazawa, A., Ikeuchi, K., Endo, H., Fukuta, K. and Akishinonomiya, F. (2008)
Breed differentiation among Japanese native chickens by specific skull features determined by direct measurements and computer vision techniques.
British Poultry Science 49(3): 273-281.
Oka, T., Ino, Y., Nomura, K., Hanada, H., Amano, T., Yamauchi K., Kobayashi, Y., Izumida, k., Nishibori, M., Yamamoto, Y. and Akishinonomiya, F. (2008)
Genetic diversity and phylogenetic classification of Aizu-jidori based on Microsatellite DNA polymorphism. Japanese Journal of Poultry Science, 45: J61-J65.
Zhang, J., Takada, M., Harada, A., Akishinonomiya, F. and Hayashi, Y. (2008)
Applying the kansei model to the preference of chicken figures in Japan and Thailand –Based on an investigation of preference for chicken figures in Chiang Rai and Okinawa –. Journal of Yamashina Institute for Ornithology, 40:23-42.
Oka, T., Ino, Y., Takahashi, Y., Nomura, K., Hanada, H., Amano, T., Sogawa, K. and Akishinonomiya, F. (2009)
Genetic diversity of Ryujin-jidori based on Microsatellite DNA polymorphisms. Journal of Agriculture Science, Tokyo University of Agriculture, 53(4): 363-367.
Sawai, H., Kim, H. L., Kuno, K., Suzuki, S., Gotoh, H., Takada, M., Takahata, N., Satta, Y., Akishinonomiya, F. (2010)
The Origin and Genetic Variation of Domestic Chickens with Special Reference to Junglefowls

Gallus g. gallus

and

G. varius

. PLoS ONE, 5(5): e10639
Oka, T., Takahashi, Y., Nomura, K., Hanada, H., Amano, T. and Akishinonomiya, F. (2010)
Genetic diversity and Population Structure of Shamo and Its Related Breeds of Japanese Native Chicken based on Microsatellite DNA Polymorphisms.
Journal of Agriculture Science, Tokyo University of Agriculture, 55(3): 211-218.
H.R.H. Princess Maha Chakri Sirindhorn and H.I.H. Prince Akishinonomiya Fumihito (ed.) (2010)
Chickens and Humans in Thailand: Their Multiple Relationships and Domestication". The Siam Society.
Sawai, H., Kim, H. L., Kuno, K., Suzuki, S., Gotoh, H., Takada, M., Takahata, N., Satta, Y., Akishinonomiya, F. (2010)
The Origin and Genetic Variation of Domestic Chickens with Special Reference to Junglefowls Gallus g. gallus and G. varius. PLoS ONE, 5(5): e10639
Oka, T., Takahashi, Y., Nomura, K., Hanada, H., Amano, T. and Akishinonomiya, F. (2010)
Genetic diversity and Population Structure of Shamo and Its Related Breeds of Japanese Native Chicken based on Microsatellite DNA Polymorphisms.Journal of Agriculture Science, Tokyo University of Agriculture, 55(3): 211-218.
H. Endo, F. Akishinonomiya, T. Yonezawa, M. Hasegawa, F. Rakotondraparany, M. Sasaki, H. Taru, A. Yoshida, T. Yamasaki, T. Itou, H. Koie and T. Sakai (2012)
Coxa morphologically adapted to large egg in aepyornithid species compared with various palaeognaths.Anat. Hist. Embryol. 41(1): 31-40.
Hideki ENDO,Kent MORI,Misato HOSOJIMA, Wina MEKWICHAI,Hiroshi OGAWA,Naoki TSUNEKAWA,Takeshi YAMASAKI,Yoshihiro HAYASHI and Fumihito AKISHINONOMIYA The University Museum, The University of Tokyo, Tokyo 113-(2012)
Functional-morphological characteristics in the musculoskeletal system of standing-type cocks including some game breeds.Jpn. J. Zoo Wildl. Med. 17(3): 131-138.
Akishinonomiya Fumihito and Komiya Teruyuki (2009) "Livestock and Poultry in Japan". Gakken.
Yonezawa T, Segawa T, Mori H, Campos PF, Hongoh Y, Endo H, Akiyoshi A, Kohno N, Nishida S, Wu J, Jin H, Adachi J, Kishino H, Kurokawa K, Nogi Y, Tanabe H, Mukoyama H, Yoshida K, Rasoamiaramanana A, Yamagishi S, Hayashi Y, Yoshida A, Koike H, Akishinonomiya F, Willerslev E, Hasegawa M(2017)
Phylogenomics and Morphology of Extinct Paleognaths Reveal the Origin and Evolution of the Ratites. CurrentBiology 27,1–10,January 9,2017